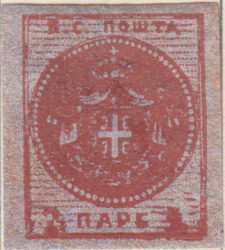 Stamps of Serbia
---
30 May 2017
An overview of the Coat of Arms Issue of 1866 with 10 examples was added to the section of Principality of Serbia. On top, several interesting and very rare varieties were added to the Kingdom of Serbia section. In total, there are 19 more varieties of old Serbian stamps on the site. Many thanks to all who contributed materials and reviewed the texts.
An overview of Prince Michael stamps is in the pipeline so be sure to visit the page again soon.
8 March 2017
Fifteen more varietes were added. The page with old Serbian stamps became too long and is now split into:
Pricipality of Serbia, philatelic period from 1866 to 1882,
Kingdom of Serbia, philatelic period from 1882 to 1920.

15-21 February 2017
A spooky hidden design on stamps of the coronation issue of 1904 is now presented. King Aleksandar Obrenović was assassinated in the coup of 1903 and the new dynasty under Petar Karađorđević came to power. It is believed that the ghostly face that appears when the lower denomination stamps are turned upside down is in fact the death mask of the late king. Additional 20 varieties and types were added to the page. Click here to access the page.

10 February 2017
Five groups of printings of Prince Milan IV Obrenović issues (1869-1880) are now presented on the page with 39 new images of types and varieties. Extremely interesting and a bit complicated issues that offer a lot of satisfaction. Click here to access the page.

7 February 2017
Forgeries of King Peter with Cap issues (1911 and 1914) are presented with examples, also some coincidental varieties from the same issues were added. In total 26 new images are now available in Serbian section. Click here to access the page.

25 November 2016
One complete sheet of stamps and 26 images of varieties and forgeries were added to the page of Principality and Kingdom of Serbia.