Definitive issue of 1919 – 10 vinar stamp, lithography
---

The 10 vinar stamp in lithography was printed twice in Tiskarna Blaznikovi nasledniki in Ljubljana. Details are displayed in the table below:
Date
Circulation
Paper types
Colors
Perforation
3 January 1919
2.830.700
Smooth white or yellowish paper
11½
2 March 1919
10.385.000
Rough thin paper

lilac pink
bright carmine
scarlet
brick red
dark red
burgundy

11½
Print plates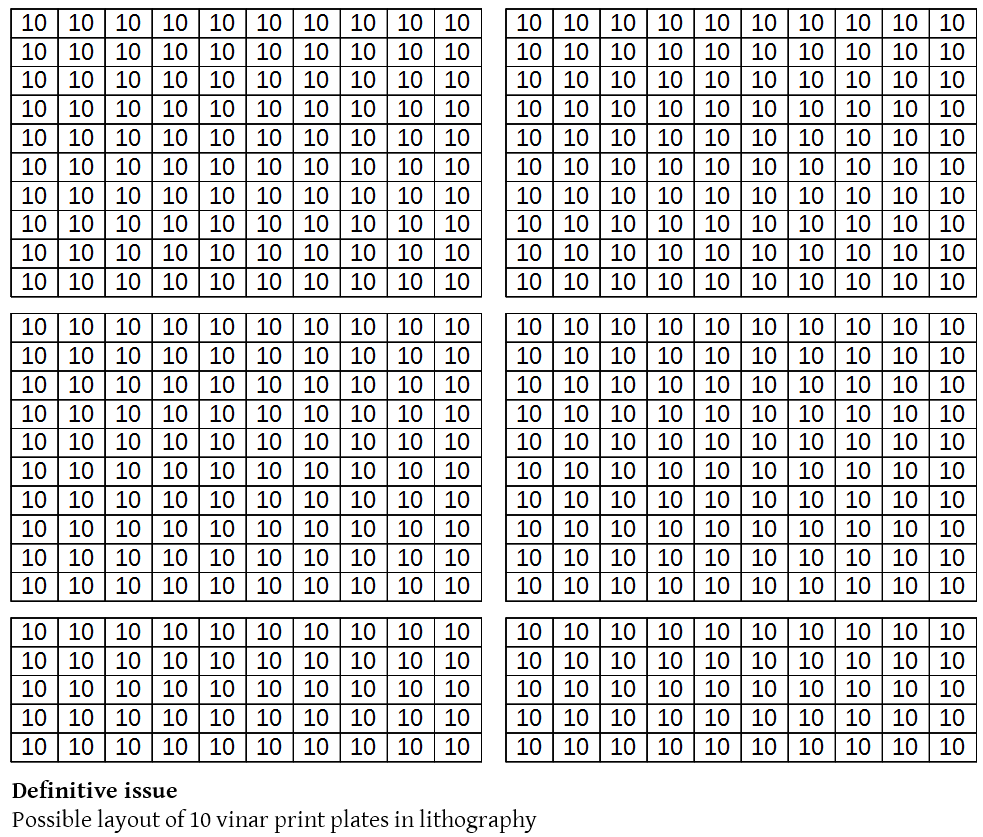 10 vinar, lithography,
possible print plate layout
The exact layout of a press sheet is unknown. It either looked like press sheet of 3 vinar and consisted of 300 stamps, which were then separated into 2 sheets of 100 and 2 sheets of 50 stamps. In the other possibility it had 500 stamps, which produced:
4 sheets of 100 stamps each in 10 x 10 layout,
2 sheets of 50 stamps each in 5 x 10 layout.
Typology based on sun rays
Unlike other denominations printed in lithography, the 10 vinar stamp has only one type of sun rays.
Constant varieties
Field
Sheets
I
Red circle between zero and man's left shoulder
2
Complete sheets of 50 stamps (10 x 5).
Sheets with varieties I-IV:

Sheets without varieties:

II
White dot between letters X and C in CXC
31
III
Red circle in zero
36
IV
Zero in denomination damaged (white dot on the inner side)
49
Bibliography
---
Fleck, Vladimir (1940): Priručnik Maraka Hrvatskih Zemalja, Book 1, Tome 4, Hrvatski Filatelistički Savez, Zagreb
Fleck, Vladimir (1946): Priručnik Maraka Jugoslavenskih Zemalja, Book 1, Tome 5, Hrvatski Filatelistički Savez, Zagreb