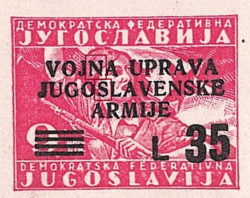 Stamps of Istria and Slovene Littoral
---
7 August 2017
Presentation of overprint types and flaws on basic stamps of the provisional issue of 1947 is now available here. Apart from 127 scans presenting types and flaws, complete sheets are also available for you to study.
2 May 2017
The Zagreb print of definitives is presented with 179 varieties and 17 sheets of stamps. As the most of the positions are identifiable, only the most prominent flaws were presented. If you wish to find positions of your stamps, 17 sheets are available for you to study. Click here to access the page.
Make sure to visit the page again soon as more materials are being prepared.
26 April 2017
The fourth issue of postage dues is now presented with additional 43 examples. Click here to access the page.
24 March 2017
Varieties on basic stamps and types of overprints of the sixth postage due issue is now presented with 30 images and 5 complete sheets. Click here to access the page. Flaws on overprints will be added shortly.
20 March 2017
The third issue of postage dues in now presented with 33 images. Click here to access the page.
18 March 2017
The first issue of postage dues stamps is now presented on the page with in total 22 images.
15 March 2017
In total 35 images of types and varieties of the fifth postage due issues were added to the page. Click here to access the page. Shortly, an overview of the first issue follows.
13 March 2017
A new section dedicated to postage due issues of the Slovene Littoral started today with 22 examples of types, subtypes and overprint errors of the second postage due issue. Many more materials are in the pipeline so visit the page again soon. Click here to access the page.
16 November 2016
Complete sheet and 8 constant varieties on overprints of 1946 provisional issue were added to Slovene Littoral section.
On top, 4 additional varieties on San Giusto stamp of 1945 (anticipated Yugoslav annexation of Trieste) are now listed thanks to the newly acquired literature.