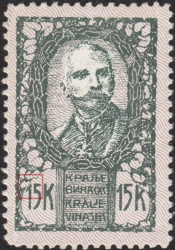 Regional issues of the State of Slovenes, Croats and Serbs and the Kingdom of Serbs, Croats and Slovenes
---
26 January 2018
A list of contemporary forgeries was added at the bottom of the page, dedicated to regional issues of the State of SCS, later the Kingdom of SCS.
Scroll down at the bottom of the page. Pages of 1920 krone issue were also updated:
6 December 2017
Page dedicated to the definitive issue of 1919 for Croatia and Slavonia was updated with additional texts, 11 varieties and 4 complete sheets. Click here to access the page.
11 June 2017
Page dedicated to the Commemorative Issue of 1918 (commemorating secession from Austria-Hungary) was added to the section of SCS Croatia. Types and famous "Valić forgery" are presented with 8 images. Click here to access the page.
8 June 2017
Additional 53 examples of provisional issue of 1918 were added today. The page became too long and had to be split into:
17 May 2017
The section of the State of Slovenes, Croats and Serbs (later the Kingdom of Serbs, Croats and Slovenes) is now updated with 32 additional varieties in overprints and 1 complete sheet. Click here to access the page.
More is to follow soon with commemorative and definitive issues.
30 November 2016
Two new pages in SHS Slovenia sections, with 6 varieties and 2 sheets, are now available. Pages are accessible trough SHS Slovenia section or directly by clicking on links below:
.
18 November 2016
A new chapter was added to the State of Slovenes, Croats and Serbs section. Two types of overprints of the so called "Celje issue" are described.
This issue was labeled as "private" by Yugoslav stamp catalog and it doesn't appear in major world catalogs. In philatelic articles it is described also as a "phantasy" or as an "unofficial" issue. After the independence of Slovenia in 1991, the issue was exonerated by some authors who claim it should be granted at least "semi-official" status due to involvement of official institutions.
Regardless of collector's preferences, there are two types of overprints. Click here and scroll to the bottom of the page to read more about this issue.
10 November 2016
Details for 5 denominations of the "dinar issue of 1920" were added to Slovenia SHS section. Click on the links below to view types, varieties and sheets of stamps:
7 January 2016
Shifted and tilted overprint on 3 filler stamp.
This and 5 other varieties are added to Croatian SCS section. Click here to view them all.