Definitive issue of 1920 – 10 dinar stamp
---

The 10 dinar stamp was printed in lithography and perforated line 11½. Denominations printed in lithography were printed twice. Ten dinar stamp was issued on:
21 June 1920, dark colors, circulation: 248.175
16 July 1920, light colors, circulation: 922.700
Preparation of print plates
Judging from the types observed on sheets A and B, in preparation process were first manufactured films of 10 stamps in a 5 x 2 form. This form was then multiplied in manufacturing of print plates. Types presented in the table below can be observed troughout the sheets on expected positions.

Types appearing on plates A and B
Field numbers
T-I
Numeral 1 in denomination thinner at the bottom
1, 6, 21, 26, 41, 46, 61, 66, 81, 86

T-II
Dot on King's nose
13, 18, 33, 38, 53, 58, 73, 78, 93, 98

T-III
Broken shield with denomination in the lower left area
15, 20, 35, 40, 55, 60, 75, 80, 95, 100

Print plates layout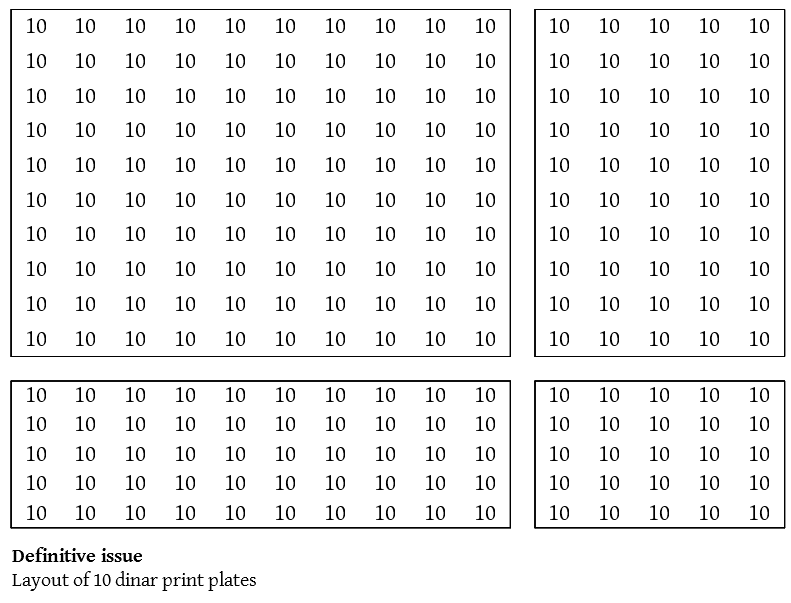 10 dinar print plate layout
The press sheet of denominations printed in lithography (2, 6 and 10 dinars) consisted of 225 stamps arranged in four separate sheets:
Sheet A: 100 stamps in layout 10 x 10
Sheet B: 50 stamps in layout 5 x 10
Sheet C: 50 stamps in layout 10 x 5
Sheet D: 25 stamps in layout 5 x 5
Constant varieties
SHEET A (10 x 10), the second print
Field number
Sheets
I
Blue network between stamps damaged
5-6
Complete 10 dinar sheets of the first print
(darker colors):

sheet A: 100 stamps (10 x 10)
sheet B: 50 stamps (5 x 10)
Sheet C: 50 stamps (10 x 5)
Sheet D: 25 stamps (5 x 5)

Complete 10 dinar sheets of the second print
(light colors):

sheet A: 100 stamps (10 x 10)
sheet B: 50 stamps (5 x 10)
Sheet C: 50 stamps (10 x 5)
Sheet D: 25 stamps (5 x 5)

II
Colored dot below King's left eye
10
III
Circle below the first letter V in KRALJEVSTVO
11
SHEET B (5 x 10), the first print
Field number
I
Blue dot on King's forehead
1
Bibliography
---
Fleck, Vladimir (1947): Priručnik Maraka Jugoslavenskih Zemalja, Book 1, Tome 6, Hrvatski Filatelistički Savez, Zagreb